Welcome to Audacity Leadership Institute (A.L.I.)
Home of the flagship program Innovative Approaches to Manifest Wealthy & Excellence (I.A.M.W.E.), strategic planning and leadership capacity building and I.A.M.W.E. Confers for the global social entrepreneur interested in building health communities. This entrepreneur is called to serve in the restoration of humanity from the inequities of life. Our curriculum is designed to assist individuals, organizations, ambassadors and others in developing measurable, scalable, and sustainable programs with leadership capacity for the greater good. A.L.I. is a community where "all of society benefits." as we affirm human social value.
"Problems present the greatest opportunities for solutions."

​​​​​​​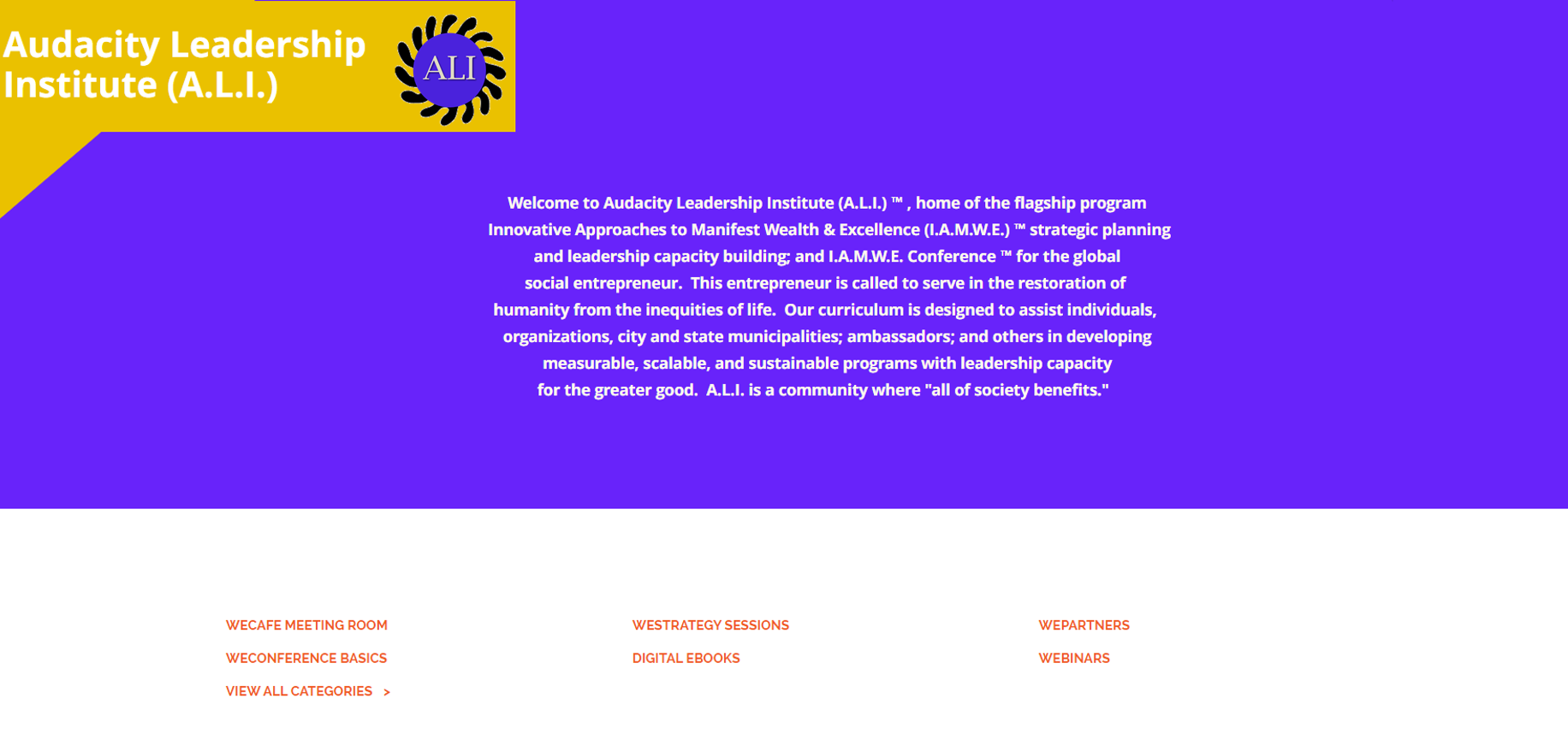 Innovative Approach to Manifest Wealth & Excellence is a community solutions tool used to help leaders build capacity to serve their population by frontloading with the right DNA for measurable, scalable, and sustainable blueprints that move their audience to action. ​​​​​​​ "I Am We" presents opportunities for communities to build healthy ecosystems that reduce harm and increase protection with community partners for change that matters. We are willing to carry the vision. Nothing for us without us could ever change a community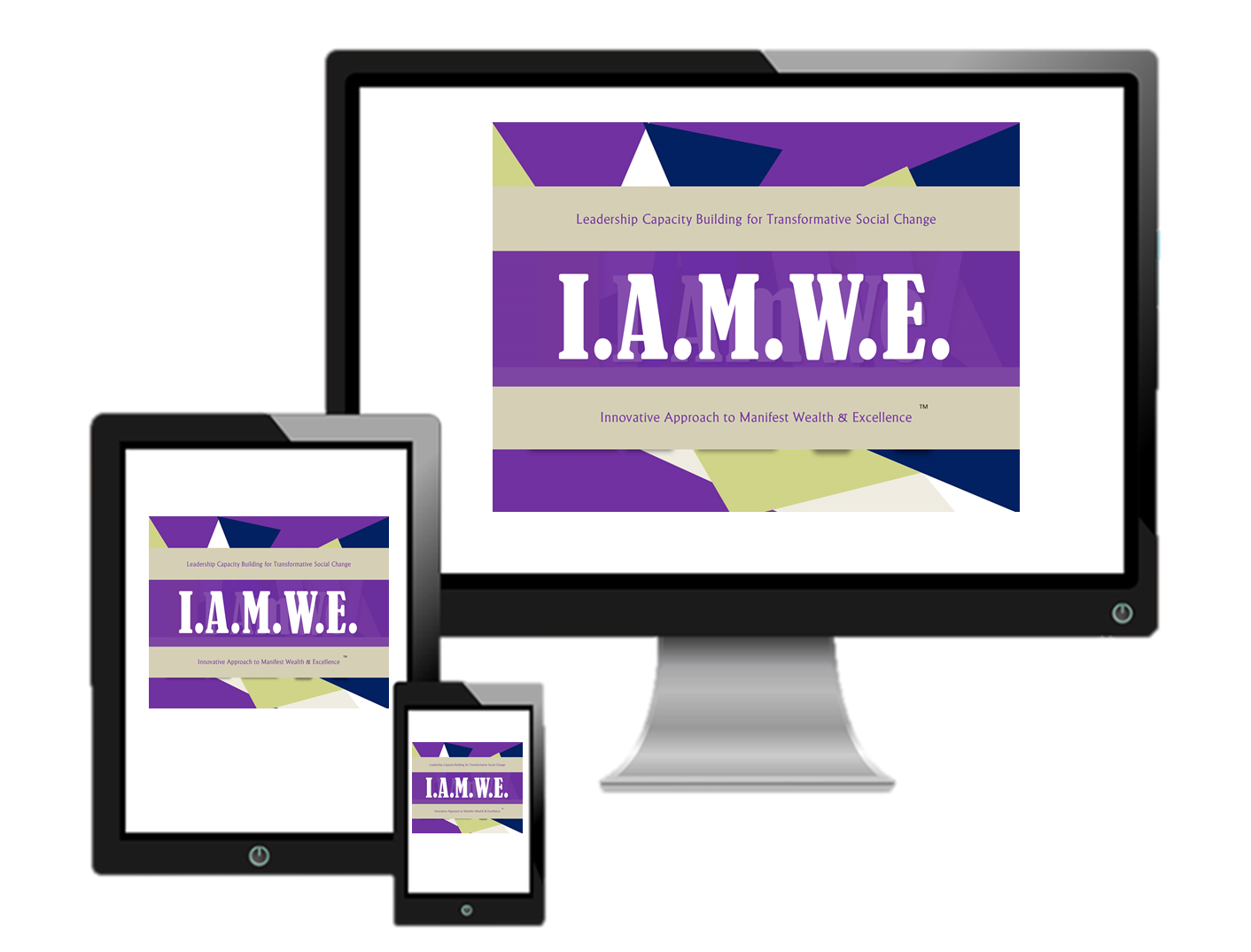 Join others around the world strategically building healthier communities with a relational culture.
Why Dr. Savage?​​​​​​​
She has a proven track record with 30+ years of organizing, developing programs, performance metrics, advising others, grantwriting and funding. What she learned was how to unlearn to learn an "Innovative Approach to Manifest Wealth & Excellence."
Program Benefits
Healing | Strength | Transformation | Resilience
►foster new ways to address your organization's painpoints
►develop a team who can see the value of their leadership in your mission.
►add value to social justice with teams that lead in their strength zone
►a team creating innovative services with amazing thematics
►a team that fights for justice and civil rights to improves what the world will look like for our children for generations to come.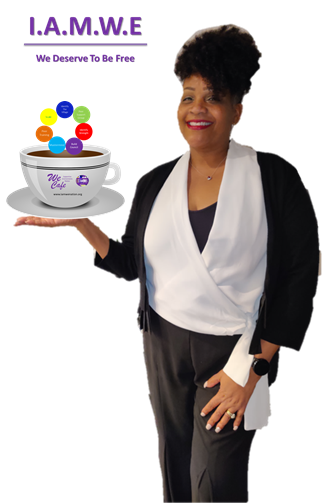 Be the solution for healthier communities!

​​​​​​​

►Team strength assessment
►Individualized team blueprints for professional growth
►Seamless relational organizing for your mission
►Proposal Planning & Budget
►Find the Money for Your Movement
We stand in solidarity with our truth as We build through effective engagement that builds healthy communities with momentum towards a participatory democracy influenced by our collective power

Do you have questions about how - or - whether to move forward?
​​​​​​​
Maybe you have started and need an accelerated shift?
WE build POWER in-community with others throughout the world for healthier communities. WE help you and your teams design the perfect strategy to assure that the organizational blueprint works. As you build in community with other change agents the windows of opportunity become limitless. You will frontload and absorb those interested in your issue area along the spectrum of support to relational environments that move your audience to action.
Are you ready to BUILD capacity with community solutions for sustainable transformative change?